Retrospective devoted to author's 60th anniversary
and 350th anniversary of Irkutsk
Irkutsk Regional V. P. Sukachev Art Museum
March — April, 2011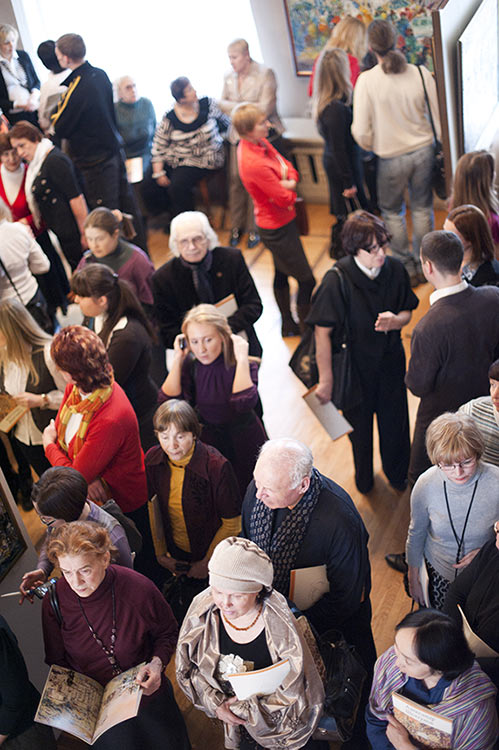 "Magically sparkling and shining world" these are exact words extracted from the introductory article to a famous artist Alexander Sheltunov's album "On the sound of the Rain and Ravel's Music" which can be characterized his personal exhibition devoted to the 60th anniversary of the artist. It opened last Wednesday at the gallery of Irkutsk Regional V. P. Sukachev Art Museum. The exposition was devoted to the 350th anniversary of Irkutsk city as the artist portrayed its magic atmosphere in the majority of his canvases. There were more than 100 pictorial works and master's watercolors.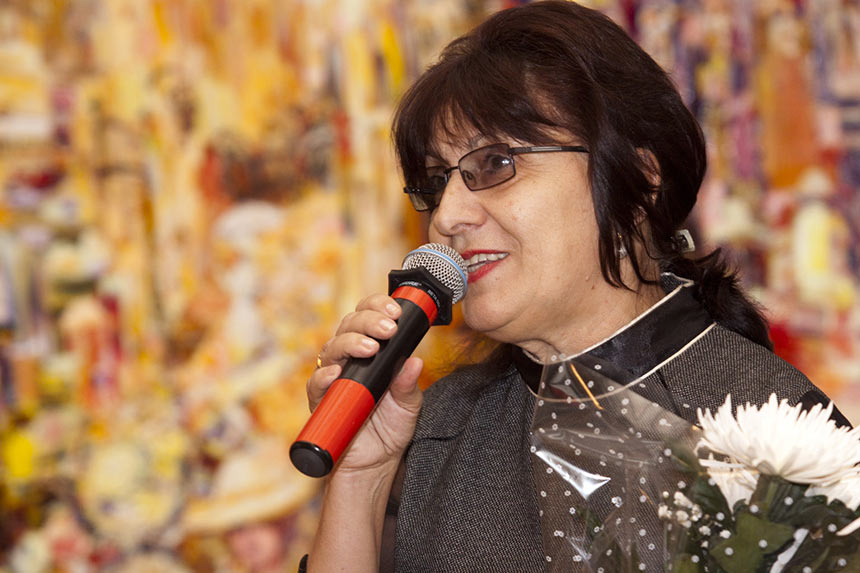 Vera Ivanovna Kutitcheva
"There has been Alexander Sheltunov warm memory in our hearts and souls." said Minister of Irkutsk Oblast Culture and Archives Vera Kutitcheva at the exhibition opening. "He made a wonderful gift to the city anniversary, having created so many stunning masterpieces! I believe if he were with us nowadays, he would be happy about today's event as his paintings still continue to excite and amaze us." 
There was no space to swing the cat on the first-working-red-letter day of Alexander Sheltunov's personal exhibition on two museum floors. There were the artists, the musicians, the writers, the journalists, his friends and his creativity admirers. Artist's family members; Galina, his wife, Nikita and Artemy, his sons, had organized an exposition and catalogue issue. According to them, Alexander Sheltunov planned this exhibition as far back as 2005 and had been preparing for it thoroughly as if he felt the end of his days. He was painting works devoted to 350th Anniversary of Irkutsk city which he loved. He arrived in Irkutsk in 1966 from Komsomolsk-on-Amur to enter Art School and settled down for good afterwards.
"Great painter and watercolor master's exhibition Alexander Sheltunov opens a chain of festive events devoted to 350th Anniversary of Irkutsk city" remarked Irina Buhantseva, Head of the Siberian Art Museum Department, Art Historian. "He had been dreaming of this exhibition. And it does not disappoint as there are a great number of works which have not been seen even by an art sophisticated spectator. For instance, I noticed artist's presence visible signs in his paintings. There is his face which can be seen from Irkutsk houses' walls or inviting to Alexander Sheltunov's exhibition banners that do not escape our notice. I have a feeling he is here with us."
Alexander Sheltunov really liked codifying the signs and images in his paintings. In his watercolors these signs were not so obvious but in his paintings they can be seen everywhere. For instance, one of his works with the Angara head water, if the one looks hard they could see the water and the bank literally dotted with myths and legends' characters.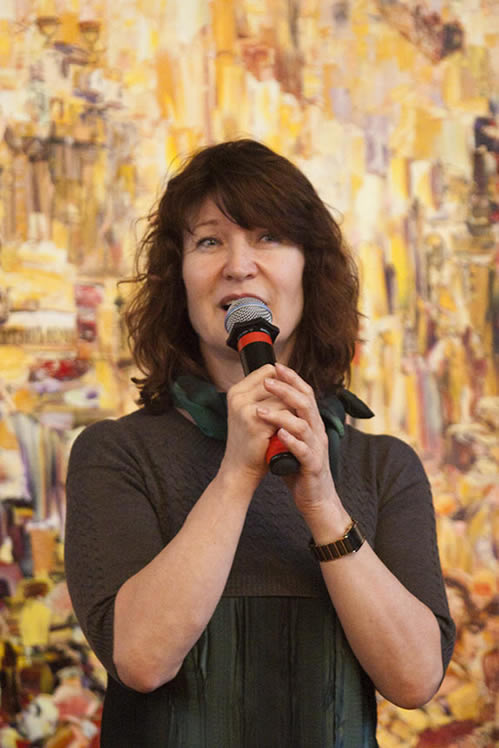 Ludmila Borisovna Ten
"Sasha was an amazingly sunny person and he remained a boy all his life" considers Ludmila Ten, the friend of the family. Once he gifted us one of his works devoted to the Baikal and said "I have codified something on it you should guess." I have still been trying to do my best to reveal the secret of this painting.
All works introduced at the exhibition and in the catalogue are from the Sheltunovs' family collection. There are 700 works in it left from the master's untimely death. The relatives did not want to part with any of the paintings and even bought some works out from private collections.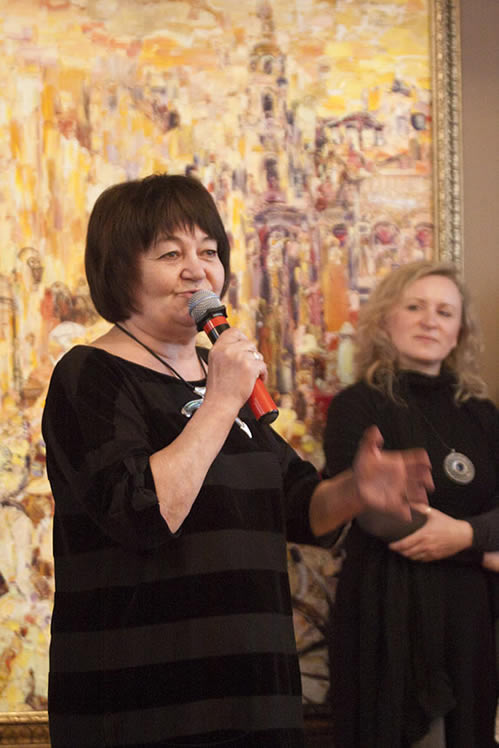 Iraida Georgievna Fedchina
"We can only envy such an attitude to father and husband's memory.That is why they say the Sheltunov's is a friendly family. It is a real fact. Otherwise there would not be this exhibition and album" admitted Iraida Fedchina, Art Historian, Creative Educational Field Deputy Director of Irkutsk Art School. "When I was offered to work on the album, as we have been family friends since our youth, I did not accept the offer immediately. But when I agreed I did not regret it." By the way, Artemy is not an expert in book compiling though, he managed to create a wonderful book with every page filled with warm and kindness.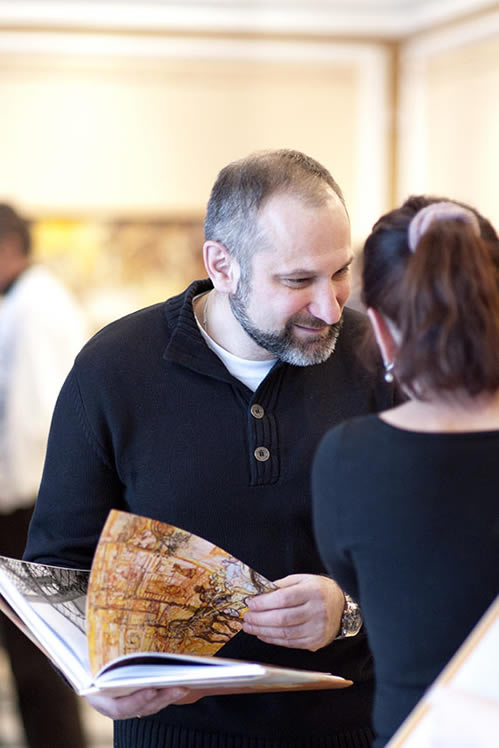 Sergey Norikovitch Eloyan
Format A4 album was published of 1 000 copies of edition. There are more than 300 pages with pictures' reproductions and the artist's family snapshots as well. Iraida Fetchina, Art Historian itemized Alexander Sheltunov's creativity according to topics: Irkutsk in life and creativity, aquatic environment, Old Ladoga and Belsk rural settlement, we are building BAM, portrait, naked, still life, creative trips and book scripts. Alexander Sheltunov's quatrain gave the title to the album:
In the sound of the rain and Ravel's music
I was in wellies at the basement with a broken drain.
I have been watercoloring in the water,
As I looked for a dry spot in vain…
"Alexander Sheltunov was a watercolorist. However, taking into consideration that this method was not very popular in Irkutsk, he was the only watercolorist in the area" mentioned Iraida Fetchina. But he appears in a different way at this exhibition – as a painter. When he started painting in oil at the age of 50 being an established artist, a lot of people treated this step with distrust. And his first works resembled watercolors very much. However, he had adapted in painting presumably six years before he passed away. Per se, he had just started working in this method and did not reach his limit. The topics of Irkutsk and the Baikal remained the same in oil. As for other stuff, they have completely been changed. For instance, if he worked in dimmed monochrome gamut in watercolors, on the other hand he implemented open bright light in oil which is very modern to the spirit of a current century.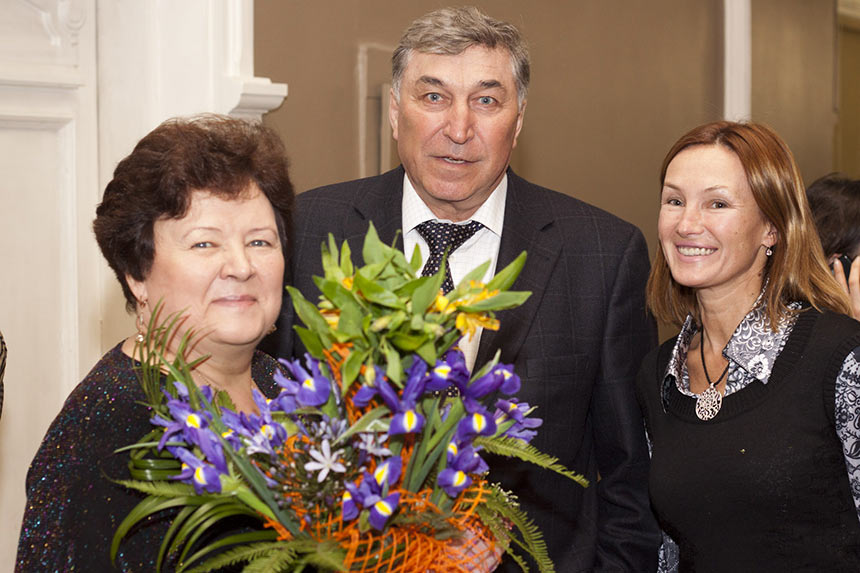 Galina Bronislavovna Sheltunova, Konstantin Semenovitch Shavrin, Tatyana Evgenievna Chueva
By the way, it is the first Alexander Sheltunov's retrospective exhibition which allowed art historians to look at the artist's creativity from a new angle of vision.
"Of course I knew Alexander Sheltunov as an artist. However, I did not imagine him in a full scale. When I started working on the album, I realized that he is not popular in Irkutsk" considers Iraida Fetchina. "He had a lot of abroad, oblast and areal, All-Russian exhibitions but not in Irkutsk. This exhibition puts him at his proper place in the Art Life of the City."
At a later date, the family is planning to publish one more Alexander Sheltunov's album filled with works from private collections. Now, Irkutsk residents have a golden opportunity to take another look at their city. Having strolled along Alexander Sheltunov's pictures, as if webbed from light and motion fragments, get outdoors and admire another lighter and more positive Irkutsk.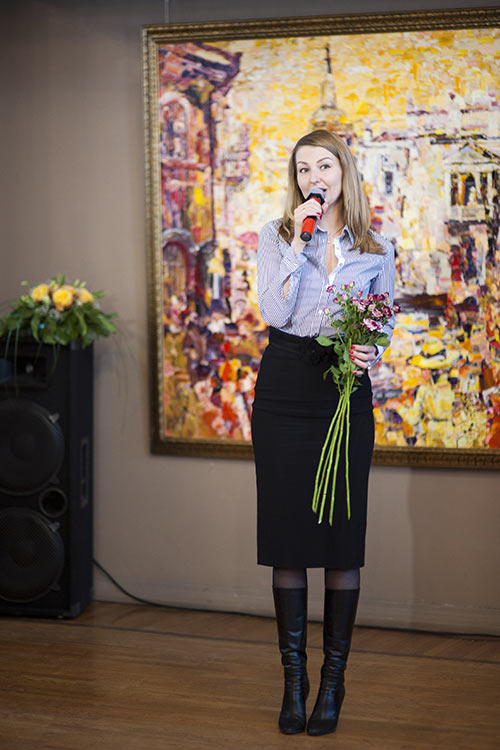 Marina Alexandrovna Kondrashova
The text writer: Elena Orlova (Oblastnaya gazeta. Issue # 28 (754). Date of issue: March, 18, 2011)