Creative trips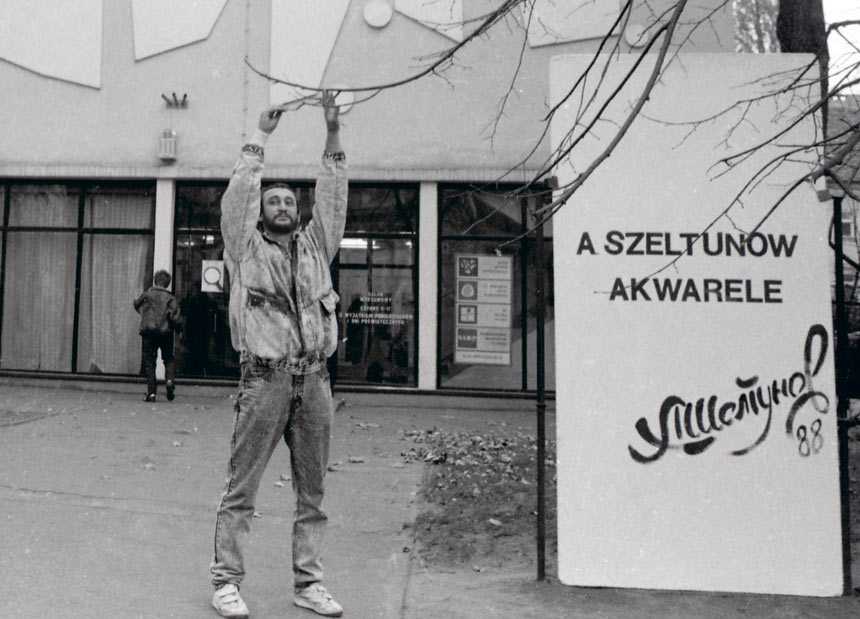 Poland, Zielona Gora. 1988
On September, 7, 2008, just a day before Alexander's death, his studio was visited by Mr. Kim Mu Yang, the Consul-general of Republic of Korea in Irkutsk. After the acquaintance with the artist and his works he proposed to organize an exhibition in Seoul. Unfortunately Alexander did not have time to accept this invitation…
There were a lot of overseas trips in the master's life: Bulgaria, Germany, Italy, Poland, France and China. He always received invitations to different countries to organize his exhibitions. Moreover, he visited the majority of those countries several times.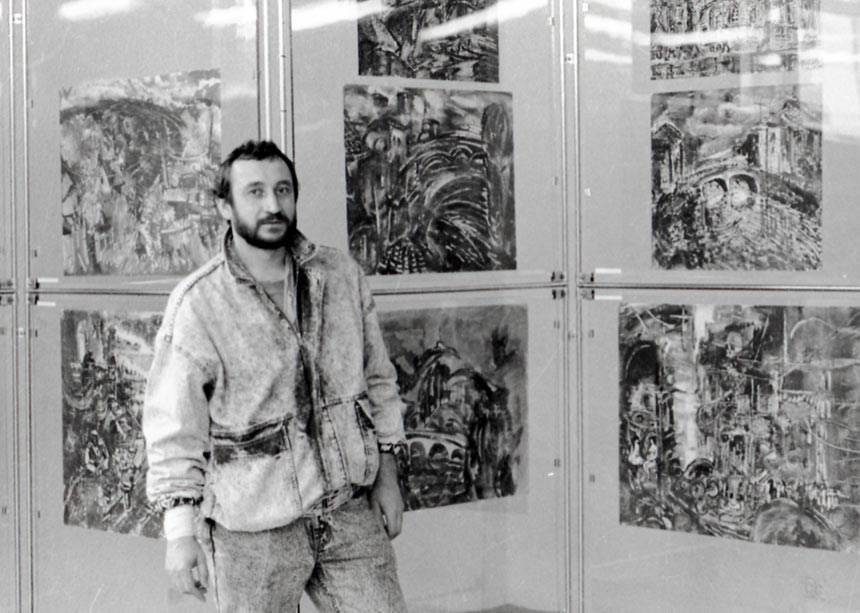 At the personal exhibition. Poland. Zielona Gora. 1988
As any real artist, Sheltunov did not only organize exhibitions exposing his creativity but he was getting acquainted with culture and art of those countries, he had a rest and surely worked in the open air.
Initially he travelled alone or with his artists-friends but later he took his son Nikita and his family. Exposing his works along with his son's ones, he was like the Siberian Art missionary and he revealed its new distinctions to the hosts.
After first trips Sheltunov conceived "Along the Roads of Friendship" series of works. There were artist's pictorial reflections about other cultures, penetration to different ways of life and impressions from the places and people. Russia had been a closed country for a long time and when there was an opportunity to see the world Sheltunov immediately took advantage. He got extremely powerful emotional and aesthetic supply from his trips, which was reflected in his creativity.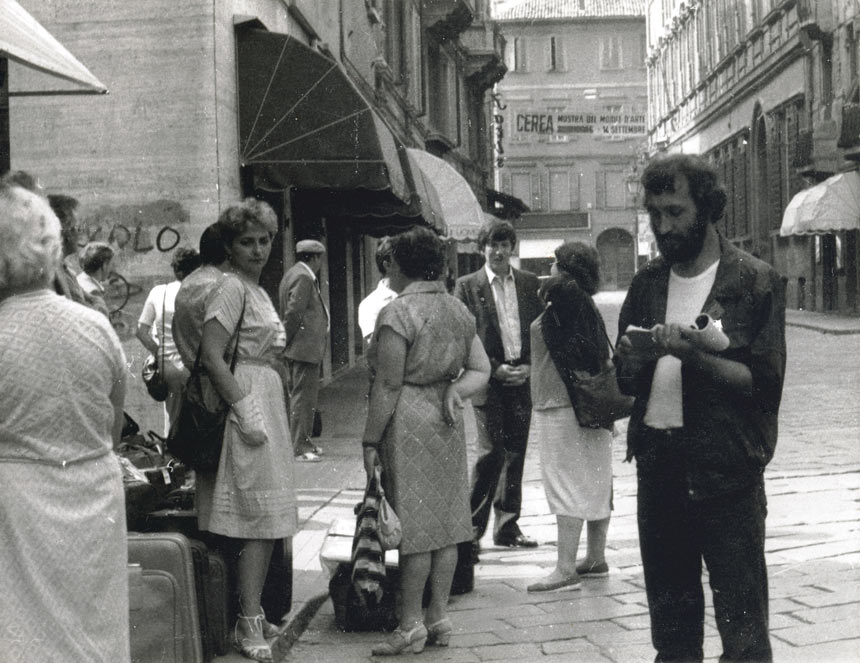 Italy. 1986
In November, 1996 there was an exhibition of Alexander and Nikita Sheltunov's works at A. S. Pushkin Fund in Madrid. In December, 1996, Fund Chairman Luis Uralde posted a letter to Irkutsk Department of the Artists' Union. Mr. Uralde thanked the artists for the enjoyable exhibition. He mentioned that the exhibition was a noticeable event in the field of cultural exchange which allowed to get a wider and deeper notion about art development in Russia.
Professional artists and ordinary viewers who visited Sheltunov's exhibitions in Poland, Bulgaria, Spain, Italy and France enjoyed the beauty and unusualness of Siberian nature and the Baikal mystical power in his works. The exhibition inspired them to arrive in Irkutsk in order to see with their own eyes the power of Siberian land and of course, they visited the artist's studio as his works helped to reveal a new world.
So, the Granzhuans, the family of French wine-makers from Nantes visited Irkutsk twice. As a token of their gratitude for an interesting trip and reception in Irkutsk provided by the Sheltunovs, they were not just invited to France but there was a chance for Alexander to work and to see the country in full scale.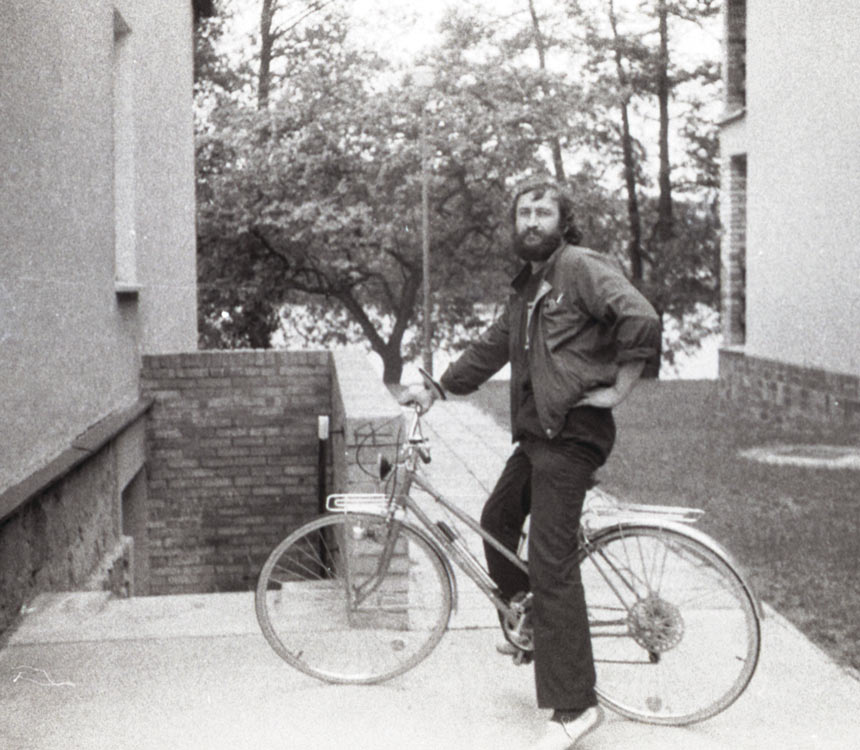 Poland. 1986
After Sheltunov's visit to Poland he finally shifted to painting in oils. This fact proved the significance of overseas trips to his creativity. Alexander's overseas works painted in any kind of technique – watercolors, pencil, and painting in oils – excel with a keenness of observation, attention to the details and peculiar color gamut. Time and place of work painting can be easily defined: Bulgarian village, busy Italian town and French boulevards. The artist managed to feel the atmosphere of the country so keen that there is an impression that he had been living there for ages.
Narrative principle is an important structural element in his works. However, the artist is more interested in the art specific language daily problems: color standards and compositional mastery. Coloring is being changed. It is getting much brighter and rich. The composition is getting more sophisticated. Alexander used almost solid colors. The works of that time made a feeling that Sheltunov reconsidered his creativity and embarked on the new path.
The text writer: Iraida Fedchina